The Quality Assurance team has come a long way since its inception in 2019 and the most amazing thing is that we are still growing.
In 2021, the QA team experienced tremendous growth and diversification in its work. The team no longer just handles the Reference Application UI tests and comprises at most 4 people. Today, the team on average has 10 to 15 volunteers who take part in our weekly calls and volunteer to automate tests. The team expanded it's scope to support OpenMRS 3.0, Platform testing, integrations of advanced QA tools,  Security testing and Interoperability testing. 
Apart from growth in the team and diversification, one of the other key achievements is the OpenMRS QA dashboard. The dashboard provides a snapshot of various OpenMRS products that are being tracked, triggering the QA Support Team to act.  Below is a snapshot of it: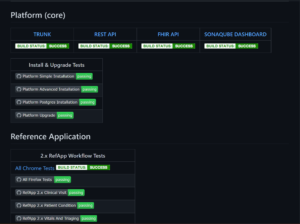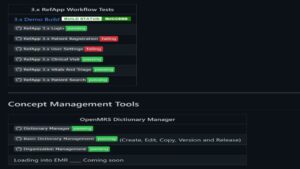 What did it take to get here? How did we create such growth? Four things that worked best for us in 2021 were: 
Peer mentorship: Mentorship in the QA team is not reliant on one person. Anyone with a good understanding of the framework can mentor and support a new team member to onboard. The environment of peer mentorship is friendly and welcoming thus making it easy for new members to join.
Documentation and tutorial videos: Volunteers also on-boarded themselves using the documentation and tutorial videos that have been set up. The team has provided detailed documentation and tutorial on the QA framework including creating a self-teaching module which was part of a Bootcamp series.
Encouragement and support: Being able to maintain the numbers of volunteers in our team has been successful through recognition of the work done, showcasing work done, and sharing blockers during the weekly calls. This has helped members get unblocked which has gone a long way in boosting morale in the team.
Continuous learning: The QA support team is always looking for better ways to handle QA or identify new areas to venture into and implement.  The team also benchmarks with other communities to learn more on how they handle QA in their environment.
Despite the advancement in 2021, we also had losses to our team with the sudden loss of our lead QA Engineer the Late Joseph Kaweesi.  This posed a challenge to the team as we had not only lost a friend and colleague but also a mentor and strong champion of Quality Assurance. However, the OpenMRS fellows who were under him were inspired to pick up where he left off with support from the community developers and moved the work head.  A true depiction of community support.
In conclusion, special thanks goes to all the team members that make up the QA team and the OpenMRS community at large for their support in the work the team does.